i've had a lot of people ask how i make my images and if i do commissions (yes, i do!) so i thought i would share my process.
a bit ago, a client contacted me to create an image of her and her hubby for their first wedding anniversary. so cute! i love those kinds of jobs and i felt very honored to be a part of their special day. she gave me some direction – their honeymoon to greece, them walking together, and sent me a bunch of photos. we agreed on a price, which included a couple rounds of revisions and i sent off preliminary drawings.

after i sent these to her, she told me what she liked – the look between them in the first, the composition of the third, except it felt unbalanced on the left. oh, and that she wanted her black boots (hehe) and i had put a cat in her hubby's bag (third), but they actually have a dog! i revised the sketches and sent her the following sketch.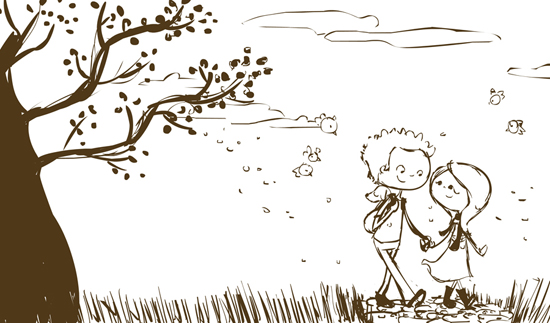 this made her very happy so there was only one revision.
from here i took my line drawing and in flash added a layer over it and went in with color. i don't usually have any specific color in mind, i am fairly intuitive with colors. after looking at her photos, i knew the kinds of outfits both of them wore and i generally tried to pick colors that would unify them and the entire piece.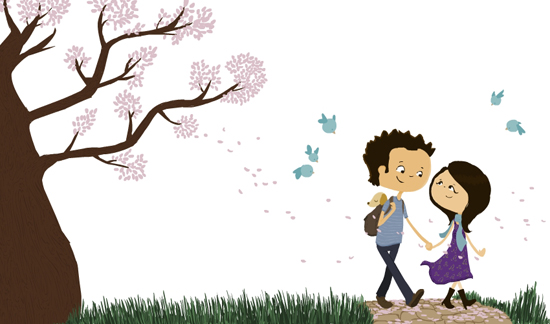 after this, i take the drawing into photoshop. i add highlights, gradients and this is where i spend time playing with overlays of color and really finalizing the image.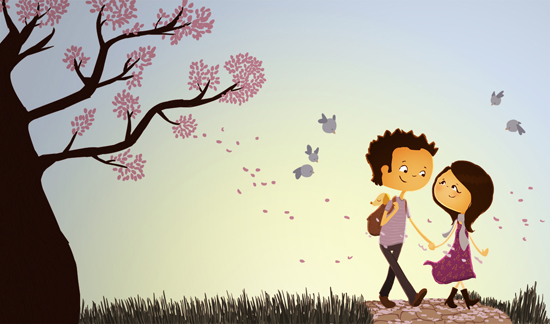 and voila! she was very happy and so was i! ^_^
https://everydaylove.wpenginepowered.com/wp-content/uploads/2019/05/edl-logo-tealv2.png
0
0
Nidhi Chanani
https://everydaylove.wpenginepowered.com/wp-content/uploads/2019/05/edl-logo-tealv2.png
Nidhi Chanani
2010-10-02 09:39:50
2010-10-02 09:39:50
anatomy of an illustration